You'll love these low FODMAP vegetarian recipes if you're following a low FODMAP diet for irritable bowel syndrome, but prefer eating a plant based, or flexitarian diet.
Can you be vegetarian with IBS?
While it can be a little challenging to find low FODMAP vegetarian recipes or vegan recipes, there are still so many delicious plant based foods you can eat on a low FODMAP diet. Let's review some of them.
Important! This list is not all inclusive. There are many more low FODMAP vegetarian & vegan foods not listed here. Please consult the Monash University Low FODMAP app for the most comprehensive and up-to-date list.
Low FODMAP Vegetables
Arugula, Bell Peppers, Carrots, Cucumber, Kale, Parsnips, Potatoes, Radishes, Romaine Lettuce, Tomatoes.
(For a full list of Low FODMAP vegetables + a free printable list, read this post: 60 Low FODMAP Vegetables from A to Z)
Low FODMAP Fruit
Clementines, Dragon Fruit, Grapes, Guava, Kiwi, Mandarins, Oranges, Papaya, Pineapple, Strawberries
Low FODMAP Grains
Buckwheat Flour, Millet, Oats, Polenta, Quinoa, Rice, Sorghum Flour, Tapioca, Teff Flour
Low FODMAP Beans & Legumes
Chickpeas, Edamame, Lentils, Peanuts, Tempeh, Tofu
Low FODMAP Nuts & Seeds
Brazil Nuts, Chia Seeds, Flax Seeds, Hemp Seeds, Macadamia Nuts, Pecans, Pumpkin Seeds, Sunflower Seeds, Walnuts
Low FODMAP Eggs & Dairy
Cheese, Eggs, Lactose Free Milk, Lactose Free Yogurt & Kefir
Low FODMAP Protein Powder
Egg White Protein Powder, Pea Protein Powder, Brown Rice Protein Powder
How much protein should I consume daily?
The optimal amount of protein you should consume daily, is based on several variables. This includes age, gender, whether or not you are pregnant or breastfeeding, as well as lifestyle factors. For instance, some athletes will require higher amounts of protein.
In addition, there's preliminary evidence that lowering protein intake, up to age 65, may promote longevity. (Learn more here: Longevity Diet for Adults.)
With all this being said, a good starting point for most people, is to aim for 0.8 grams of protein per kilogram of body weight or 0.36 grams per pound. This equals 54 grams per day for someone who weighs 150 pounds, and 72 grams for someone weighing 200 pounds. Is this amount less than you thought it would be?
What should vegetarians & vegans eat for protein?
Fortunately, it's pretty easy to eat enough protein on a low FODMAP diet. Following a low FODMAP vegan diet may be a little tricker, but with careful planning, is definitely doable. Use this chart to help monitor your protein intake. Serving sizes w/ an * are upper limits for those foods, per MONASH app as of 11/9/19.
As you can see from this chart, you can meet your protein needs over the course of a day, by combining multiples sources of low FODMAP protein rich foods. For instance…
Top oatmeal with walnuts, chia seeds, and lactose free milk for breakfast.
Make a salad with greens, low FODMAP veggies, lentils, slivered almonds, and dressing for lunch.
Savor an afternoon lactose free yogurt topped with strawberries.
Enjoy a tofu and veggie curry for dinner.
Supplements you may need on a low FODMAP vegetarian or vegan diet
With careful planning you can meet most of your vitamin and mineral needs on a vegetarian or vegan diet, but for optimal health, you may need to add these supplements to your diet: Calcium, Iodine, Iron, Omega-3 Fats, Vitamin B12, Vitamin D, and Zinc.
Therefore, I highly recommend a consultation with a dietitian who has expertise in low FODMAP and plant based diets (ME!!!) to help ensure you're meeting your optimal nutritional needs. I offer supplement consultations, as well as customized meal plans. Please get in touch if you are interested in learning more.
Tips for using these low FODMAP vegetarian recipes…
Feel free to adapt these low FODMAP vegetarian recipes to vegan, by omitting cheese & dairy milk or swapping them with plant based low FODMAP alternatives. In addition, scrambled tofu makes a delicious substitution for scrambled eggs. And, chia eggs or flax eggs can be used for baking.
Please note, that a few of these recipes do contain meat. Simply omit the meat. Or you can swap it out with low FODMAP plant based high protein foods including lentils, chickpeas, edamame, firm tofu, and tempeh.
In addition, for optimal energy, aim for 20+ grams of protein at breakfast, and spread the rest of your protein intake throughout the day. Protein (and fiber) help keep us full & keep blood sugar levels stable. This in turn leads to increased energy and a better mood. Win, win!
Low FODMAP Vegetarian Recipes | Beverages & Smoothies
Low FODMAP Vegetarian Recipes | Breakfast
Low FODMAP Vegetarian Recipes | Lunch, Dinner, & Side Dishes
Low FODMAP Vegetarian Recipes | Snacks
Low FODMAP Vegetarian Recipes | Dessert
More Low FODMAP Resources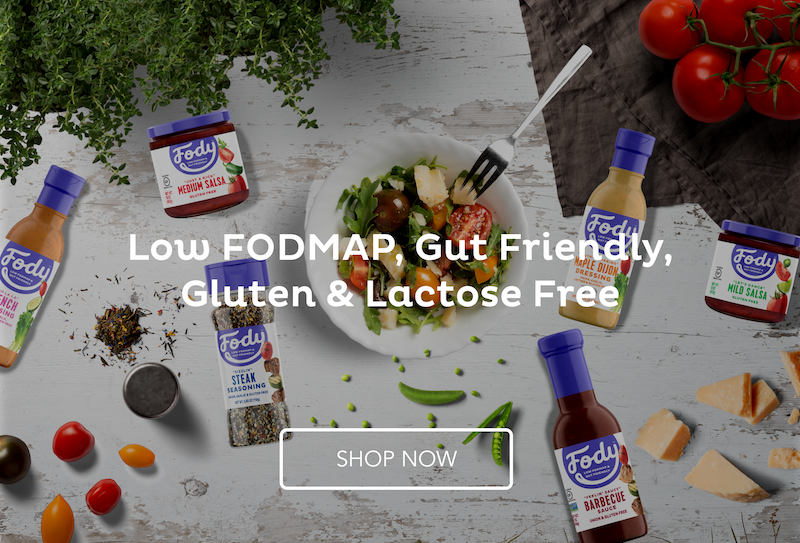 Questions or Comments? Which of these Low FODMAP vegetarian recipes will you try? Do you have any questions about how to get enough protein on a low FODMAP diet? Do you need low FODMAP diet coaching or a customized low FODMAP meal plan? I'd love to work with you! Click here to get in touch! And, if you enjoyed this post, please share-thank you so much!